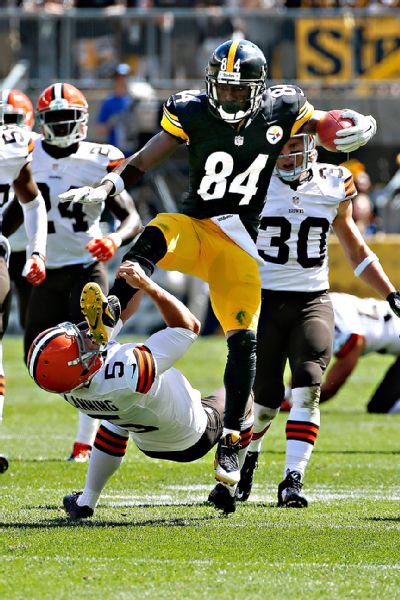 Antonio Brown stomps Spencer Lanning.
Photo Credit: Gene Puskar / AP
The final score
almost
doesn't matter. Yes, it was a win, thankfully, but the second half is pretty much all anybody will talk about, and it was alarming. As ESPN.com's
Scott Brown
wrote, "The Steelers were unstoppable in the first half and unwatchable in the second half."
Final score: 30-27
, in favor of the Steelers,
but
... mistakes, 11 penalties, poor choices, plays allowed and plays not made, including
Ike Taylor's
trademarked interception-drop to be followed by an opponent's touchdown a few plays later.
It almost doesn't matter what the Steelers did in the first half. They stunk up their own stadium in the second half. The defense let the Cleveland Stinking Browns come back from a 24-point halftime deficit. That was
Disgusting.
Good defenses don't blow 24-point halftime leads.
Granted, there were numerous good plays by more than a few Steelers, and several players were downright outstanding:
Antonio Brown, Markus Wheaton, Heath Miller, LeVeon Bell, Justin Brown
and
Ben Roethlisberger.
Even the Special Teams were mostly good.
In some positions, however, maybe the Steelers just don't have the right talent. The front office gave contract extensions to
Cortez Allen
(why?),
Maurkice Pouncey
(?) and
Marcus Gilbert
(??). The offensive line anchored by Pouncey and Gilbert allowed four sacks, which is too many. "Obviously."
Let's see, four sacks a game for 16 games = 60 sacks. Obviously. Numbers like that rarely extrapolate so neatly, but, still, the idea is to protect Ben, isn't it?
And the defense? Ugh.
In Joey Porter's Pit Bulls' posts during the week before the game, it was noted the Steelers
must
stop the run. They didn't.
The Browns racked up 183 yards on the ground, including runs of 29 and 25 yards, and 6.1 yards per rush.
Allowing 183 yards on the ground is unacceptable by anybody's criteria.
The porous defense allowed running back
Terrance West
, a small-college (Towson) rookie playing his first NFL game, to run for 100 yards, and another small-college rookie,
Isiah Crowell
(Alabama State), to score two touchdowns. West averaged 6.8 yards per carry; Crowell averaged 6.4 yards per carry, and starter
Ben Tate
averaged 6.8 yards per carry before leaving with an injury.
Mike Mitchell, in trail
Backup and no-name receivers running free made us wonder why
Cortez Allen
got an extension.
And, we have to ask, where was
Mike Mitchell
, the big-money free agent safety? He was in on seven tackles, but if anybody thinks he had anything resembling a good game, uh, no. Same goes for
Ike Taylor, Jason Worilds, Cam Thomas
and
Steve McClendon.
Each of the linebackers had at least one good, noteworthy play, but there were plays and tackles left unmade, and
that
was obvious by the numbers.
The Steelers had better get their act together by Thursday.
Next game:
Thursday night in Baltimore vs. the Ravens, who clearly have problems of their own.