Nice timing,
Zygi Wilf, Mark Wilf, Rick Spielman
and all the other Minnesota Vikings decision-makers who announced yesterday afternoon that, yes, accused child abuser
Adrian "Whoopin'" Peterson
will play on Sunday.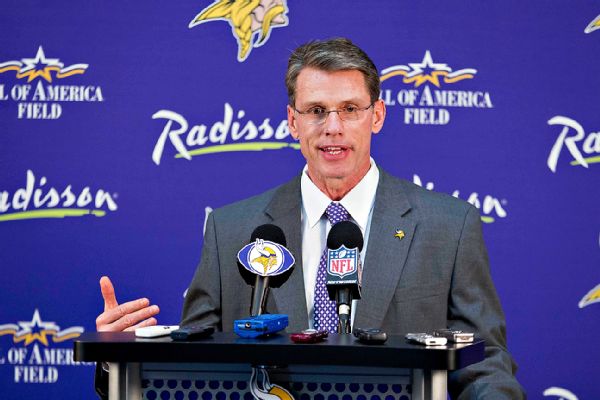 The Vikings need to find a new sponsor-backdrop screen
for their news conferences, now that Radisson has suspended
its sponsorship of the team. Shown: Vikings GM Rick Spielman.
Wolf, the team owner and a notorious sleazebag, and Spielman, the general manager, weren't at all clear on what factors went into their decision, so we can only surmise it had nothing to do with, or
everything
to do with the fact that
Minnesota running backs averaged 2.0 yards per carry on Sunday
.
Clearly, Wolf and Spielman, however, would have us believe their decision to welcome back Peterson had little to do with Sunday's abysmal on-field performance by the Vikings' offense, which looked dreadful without the star running back in a 30-7 loss at home to the New England Patriots. The Vikings' owner and management team want Peterson on the field to help the team be more competitive.
Winning, or attempting to win,
trumps everything
. It seems to be a classic example of flexible, situational ethics.
Karma Trumps Situational Ethics?
Then, to spice things up later on Monday, a Houston TV station reported
a second mother of another four-year-old son of Peterson's
has come forward to
also
accuse him of accusing
that
boy in a
separate
incident. The television station
reported
that other mother of the second four-year-old filed a report with Child Protective Services but no charges have been filed yet.
And, in an announcement that must have surprised the Vikings late Monday, one of their "sponsor partners," the hotel chain
Radisson
, displayed uncommon good sense by issuing a statement to the effect that they were suspending their sponsorship of the team, effectively disassociating themselves from the Vikings.
Evidently, Radisson takes all this more seriously than the Vikings do:
"Radisson takes this matter very seriously particularly in light of our long-standing commitment to the protection of children," said the company's statement. "We are closely following the situation and effective immediately, Radisson is suspending its limited sponsorship of the Minnesota Vikings while we evaluate the facts and circumstances."
Sponsorship money. Now that's something the NFL understands.
Meanwhile, the Steelers' next opponent, the Carolina Panthers, left it to head coach
Ron Rivera
to announce yesterday that star defensive end
Greg Hardy
remains with the team and is not suspended, but may or may not play on Sunday night vs. the Steelers in a prime-time nationally televised game.
We'll get around to talking about on-the-field football at some point soon. We still like the game itself and some of the people playing it.